Our Story
Luxeire's mission is to provide women with sophisticated wardrobe essentials that are eco-friendly, exceptional quality, comfortable and easy-care. 
Luxeire compliments a woman's everyday wardrobe, adding versatility to dressing – for everything from work to travel and special occasions.
The mother-daughter team
Co-owners Gina Kuyers & Margot Adams
The idea for Luxeire came out of founder Gina Kuyers' frustration with the discomfort and high maintenance of beautiful clothing. With a 20-year career and PhD in school psychology, Gina spent decades applying research to real-world problem solving. She brought these well-honed skills to designing and producing a line of elevated wardrobe staples.
In 2019, Gina's daughter, Margot Adams, joined Luxeire as head of marketing and sales. Margot went to Parsons School of Design in New York City, where she studied business design focusing on marketing and sustainability.
Luxeire proudly sources its fabrics from Jersey Lomellina, a mill in Bergamo, Italy, known for producing luxury technical fabrics, with an extensive selection of fabrics made with recycled fibers. Luxeire garments are produced in the studio of a veteran, designer apparel manufacturer in the heart of New York City's garment district.
Offering the highest quality production & fabrics
Italian fabrics, Made in New York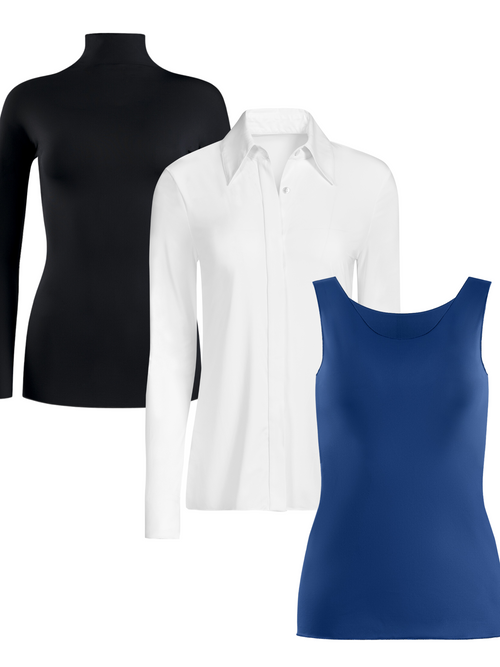 Our Collection
Luxeire was created for the woman who chooses great quality and longevity over fast-fashion and trends. Timeless and versatile, our pieces provide 4-way stretch, silky soft comfort and are easy-care wash and wear.
All Luxeire garments are made from Renew sustainable fabrics created with ECONYL®, 100% regenerated nylon fibre/yarn from pre and post-consumer waste such as fishing nets and other nylon waste.
Luxeire uses four different variations of Renew fabrics, each of which is its own collection.
Commitment to sustainability
Luxeire implements sustainable practices in fulfillment and production. All of our garments are packaged and shipped to customers in reusable bags and we reuse and recycle hangers. All unused fabric is donated to educational institutions. We are committed to sustainability with both the products we offer and the way we run our business.
Collections
Classic styles designed for the modern woman.